Our expertise lies in developing products and markets from 'concept to fruition' and beyond. Our constant focus on
innovation has helped us to emerge as a trendsetter in various markets and be known worldwide for our unbeatable range of products.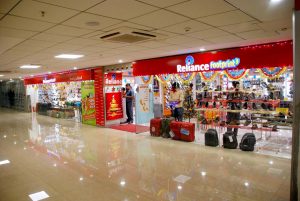 Our operations span from the exploration and production of oil and gas to the manufacture of petroleum products,
polyester products, polyester intermediates, plastics, polymer intermediates, chemicals, synthetic textiles and fabrics.
Floor
Store No.
Store Manager
Store Timings
Contact
Mail-ID
Offers
LGF
08
Radha Kanta
11am – 9.00pm
0343-2542454/9903948150
radha.sikder@ril.com/prasun.mondal@ril.com
N/A